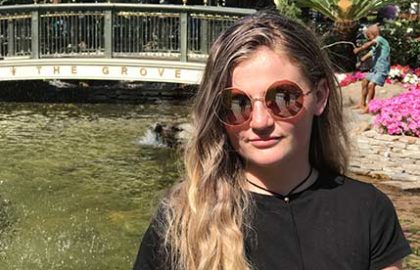 Erika Halpin McKevitt
My background
I have lived in Ballyfermot since the age of 11, so I suppose you could say I'm from here. Before that we lived in a council house in Crumlin, while my mam job-shared and raised me and my brother single-handedly. My family, like many where I'm from, was and still are plagued by addiction and mental health issues. I grew up very fast and my life has never been easy, but I am blessed with a mother who showed me what it is to be a strong independent woman.
My support
When I was in sixth class I applied for and was chosen to be a Trinity Access Programme (TAP) Maths and Science Scholar. It couldn't have happened at a better time, as I had just refused to take the confirmation pledge and I was soon to be caught smoking. Those events are funny to me now, but had it continued my life could have been so much different! Through TAP I gained an insight into college life, gained a love for science and I was supported the whole way through secondary school. Coincidentally, one of the student mentors was from my area and went to my school. Twelve-year-old me was amazed that someone with my accent was studying in Trinity College. That's all it took, in that moment I decided that if she could go to college so could I.
My journey
I got to university relatively easily after that, I was always strong academically and even achieved the best Leaving Certificate in my school. I received my first choice on the CAO and landed on DCU's doorstep.
I struggled a lot in first year. It was a totally new environment, new routine and new people. It was my Access Officer who convinced me to continue studying in DCU even though I wanted to transfer to somewhere more local to me.
Second year was completely different. I got involved a lot more on campus and had the most amazing year. I became a class representative, got involved in a political party and even facilitated two SMART consent workshops. Most importantly, I became an Access Ambassador. This is something I'd hoped for ever since my TAP days. Through the DCU Access programme, I have gained a second family. I have received more support and encouragement than I could ever need and somewhere to go when it all gets too much.
My vision
My advice to anyone considering higher education is to never let your past or other people's prejudice hold you back. For every person that doesn't believe in you there's someone who does.
When I graduate next year, I will go on to sit my professional exams and become a Chartered Accountant. Who knows where I'll end up after that? I've been fortunate enough to receive a lot of help and opportunities along the way so I will continue to give back in any way possible!